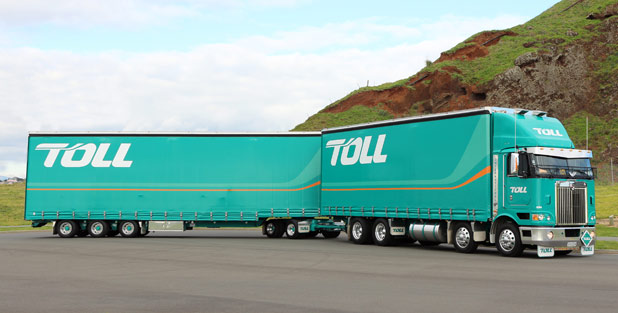 Big Rigs To Multiply In The Coming Months
A rigorous two year testing period for new extra sized trucks means that NZ could see a lot more of them on major roads very soon.
The Transport Agency is halfway through a trial of 25-metre truck-and-trailer units on specific stretches of state highway that can handle their massive weight.
Commercial vehicles measuring 23 metres in length have been operating for the past three years without any issues, NZTA freight director Harry Wilson said.
"What we have done is increase the length and weight of these vehicles to carry 62 tonnes on specific routes."
For the past year, four of these vehicles have been carrying logs, timber or general freight predominantly on state highways in the North Island. The "high-productivity motor vehicles" have been travelling SH1 from Auckland to Wellington, SH5 from Taupo to Napier and SH2 from the mill north of Napier to the port.
That number of rigs has now multiplied to about a dozen, with a couple operating on SH 1 from Picton to Timaru, accessing the ports of Lyttelton and Timaru. They are permitted to operate on specific routes only.
Related Articles:
Mr Wilson said the NZTA's priority is to move more freight on fewer vehicles where the roading infrastructure is suitable and road user safety is not compromised.
The trial has been described as "a new and challenging area" for the NZTA, local authorities and the road transport industry.
An AustRoads report specifically identified heightened risk for vehicles above 23m if the route isn't carefully assessed and problems mitigated.
Mr Wilson said the trial has gone "extremely well" so far.
"The purpose of [the trial] is to track the performance of the vehicles and identify any issues," Mr Wilson said.
"What we're finding is that as these vehicles have been specifically designed to performance-based standards, they are tracking better on the roads than some class-one heavy vehicles."
The trial does not require any road improvements, but the agency has announced bridge upgrades to carry vehicles up to 62 tonnes where it represents "value for money".
Over 30 state highway bridges will be strengthened over the next two years totalling $12.5 million across the upper and middle North Island.
The cost of that work will be funded by the National Land Transport Fund, which collects revenue primarily from road user charges, motor vehicle registrations and fuel excise tax.
Mr Wilson said each vehicle must meet a strict performance-based standard to ensure its safe operation and the safety of all other road users.
"Each route has been assessed by a professional engineer or industry specialist to ensure suitability, such as the durability of road infrastructure – bridges and road pavements – to cope with the increased loads, and the transport operator needs to develop a travel plan.
"The assessment includes a route analysis which identifies all risks and looks to put in place mitigation measures. [Risks] considered are stacking in turning bays, clearance times at intersections and railway lines and the tracking of vehicles around roundabouts."
BIG-RIG ROUTES
State Highway 1 from Auckland to Wellington
State Highway 5 from Taupo to Napier
State Highway 2 from the mill north of Napier to the port
State Highway 1 from Picton to Timaru, accessing the ports of Lyttelton and Timaru.
If you would like to read the full article head on over to the Stuff NZ website