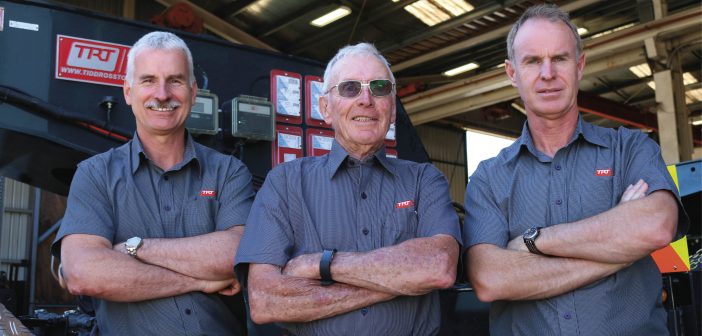 Dave Carden Legacy
BY WAIKATO BUSINESS NEWS ON 13/05/2021
TRT founder and director Dave Carden, now in his 91st year, has made the move to a new role as ambassador for the company he did so much to build over the last 50-plus years.
Considered by many in the heavy transport and crane industry as nothing short of a mechanical genius, and an inspirational leader to boot, Mr Carden retired this year as a director of TRT – the company he helped found in 1967.
His stellar run as a businessman dedicated to a single industry was recognised in 2017 when Mr Carden was inducted into the New Zealand Road Transport Hall of Fame at a black tie event in Invercargill.
Describing himself at the time as a "fitter-and-turner and proud of it" Mr Carden built a reputation in the industry as a customer-driven innovator adept at coming up with novel solutions to truck and crane challenges.
In a typically self-effacing acceptance speech in Invercargill Mr Carden described himself as a "mechanical-welder-whatever-it-is-engineer with a flair for designing things".
A Waikato man to the core, Dave Carden was born on September 13, 1930, in Paeroa. Always fascinated by mechanics he started a fitter and turner apprenticeship with Thames company A & G Price just after the war, gaining a rare apprentice transfer into precision welding at Putaruru Engineering.
After gaining his registration as both a fitter and turner and precision welder Mr Carden worked overseas as a marine engineer before signing on as a fitter and turner with Putaruru firm Wilcox Engineering, leaving them some time later to work as a petrol and diesel mechanic for Haven Motors in Arapuni.
Mr Carden set out on his own in 1958, while still in his 20s, and founded Southside Motors and Engineering in Putaruru, gaining a reputation as a man who could turn his hand to nearly anything, including, in 1965, engineering work on the Putaruru Rail Bridge.
In a tightly controlled economy still struggling with import restrictions in the aftermath of war, Mr Carden soon built a reputation for innovative engineering based on New Zealand solutions to problems his customers encountered.
He recalled: "In the 60s when we started you could not buy anything because of the war, could not get the right equipment to cart logs. So we got Internationals [trucks]and we repowered them and that meant putting in engines, gearboxes, diffs, axles and air brakes and then getting the GVW [the total weight of the truck and payload]right. They went for years and there's still some of those old trucks out there."
Mr Carden's involvement in what was to become TRT started when two Cambridge men, Jim Ross and Norm Todd, set up a repair shop in Cambridge specialising in turning vehicles into utes. Another local, Jack Tidd, who assembled crane carriers, bought into the business.
Mr Tidd had for some time been watching Mr Carden, who was also engineering crane carriers, often on old Bedford trucks.
As Mr Carden's son, Bruce, explained in an interview with NZ Trucking: "Dad was making significant waves building crane carriers. Jack Tidd was in the same business. The difference was that Jack assembled his from imported components and Dad built his own from scratch and along with it a reputation for innovation." In 1967, Mr Carden accepted an invitation to join forces as a 30-percent shareholder and workshop manager for Jack Tidd – Ross Todd Ltd, specialising in crane carrier manufacture.
It was the perfect fit for the inventive engineer and he was to prove instrumental in the company's long-term success.
However, an early test of Mr Carden's ingenuity in the new partnership had nothing to do with the transport industry and came when designers of the proposed 8.8-km long Kaimai railway tunnel in 1970 put out a call for curved support beams.
Mr Carden figured out how to bend the steel beams supporting the tunnel.
He built a machine to do the job and produced 8000 beams in the eight years of the project. The solution put Jack Tidd-Ross Todd Ltd on the engineering map.
However, it was the truck and crane business that held his attention and during Mr Carden's engineering career the company achieved a number of breakthroughs for the NZ truck and crane industry including developing tag axles, logging jinkers, the Tidd Crane Carrier, Tidd Hydrasteer, a hydraulic house mover, and platform trailers.
However, while Mr Carden always described himself first and foremost as an engineer, he was also in the 80s to prove himself a shrewd businessman.
During the 1982 New Zealand Crane Conference Mr Carden signed what has become known as "the Game Changer". Breaking with standard protective economic practice of the time, he used a paper napkin to relinquish TRT's right to an Import Duty Protection Licence. The move allowed the crane industry to import cheaper cranes from overseas.
In 1987, Norm Todd sold his remaining shareholding to the Carden family. Mr Carden became managing director of Tidd Ross Todd Limited, serving from 1987 to 1997.
Under his stewardship, the company went from strength to strength focused on ingenuity and engineering.
In the late 1990s, the renamed Tidd Ross Todd (TRT) moved into Australia and built a new mechanical service facility in Maui Street, Hamilton.
TRT chairman Jerry Rickman who worked with Mr Carden for 30 years described him as a "truly good bugger, one of the original innovators, adept at coming up with his own solutions to mechanical problems and challenges".
Mr Rickman said Mr Carden had always been keen to build products that were in it for the long haul.
"He did very cool things and from an early age came up with solutions that other people struggled to get. He built a considerable company by placing people ahead of profits – and you can see the evidence of that in the fact staff stay with TRT for decades – and by working on innovations with his own design office, and continually reinvesting in the business.
That last is a sure sign someone has faith in their business, staff, and company's ability to deliver products."
Describing him as "self-effacing" and "not one for the headlines", Mr Rickman noted Mr Carden, a Commonwealth Games cyclist, was a "particularly decent" benefactor to the sport of rowing.
"He believed in being fit, and his people being active, and he had a scheme to pay gym memberships in the company."
Outside business, Mr Carden volunteered for his local Lions Club and was a member of the Board for the St Paul's Collegiate in Hamilton. Always using his Kiwi ingenuity, Mr Carden got involved in designing and constructing an 18-metre high radio communications mast to improve safety on Mount Maungatautari, a wildlife sanctuary located near his hometown in the Waikato.
"Having been in business we have a lot of contacts to get help from the right people. We've spent money but there is a long list of other people who have donated their time and expertise, which is worth a lot of money," Mr Carden
said at the time.