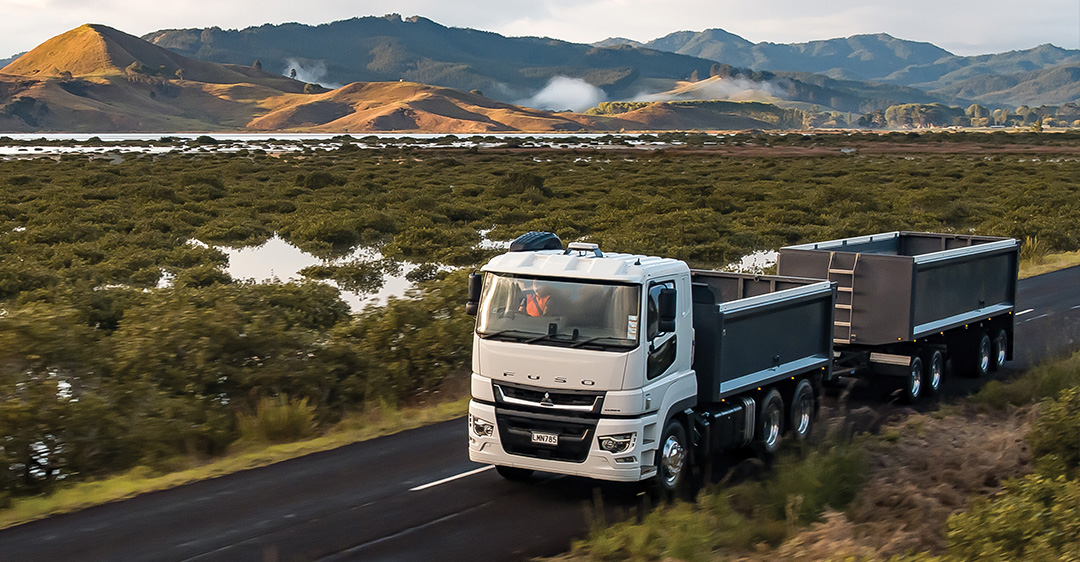 Fuso To Deliver Game Changing Power To New Zealand
A new high-torque 510hp FUSO Shogun will be the most powerful Japanese truck available in New Zealand – and is in the final stages of testing and transmission mapping on NZ roads.
FUSO Shogun is already the most advanced Japanese truck; the new 510hp models will become the most powerful too, providing a hefty 2,500Nm torque to conquer the most challenging conditions NZ can throw at it.
"This is a truck we've wanted to introduce for some time and we're extremely pleased to now be in a position to do so," said Fuso New Zealand managing director Kurtis Andrews. "We know the 460hp Shogun is extremely capable; now operators wanting 10hp per tonne on a 50T load, backed by a massive 2,500Nm, or 1,850 ft/lbs in old money, will be seriously impressed with what this new model has to offer."
The 13-litre, Detroit Diesel-derived OM471 engine will be the jewel in the crown of the FUSO range,
delivering near maximum torque from around 900rpm – "so it really hangs on" says Fuso NZ product planning manager Ian Porter, who is working with experienced Kiwi operators and Japanese engineers to fine-tune performance for NZ conditions.
"After 10,000km of road testing, we are currently working with Mitsubishi Fuso Truck and Bus Corporation engineers to ensure that the mapping on the G330 12-speed automated transmission is as well tuned as the 360hp, 400hp and 460hp units," said Porter.
Shogun 510 will initially be available in two 6×4 wheelbase options – a tractor (3.900mm) and a rigid (4.300mm) – both with 63T GVM and air suspension.
Porter said the two models will tick the boxes for operators of A-Train, B-Train or tipper configurations.
Safety conscious
Ensuring it continues to deliver on the pledge 'We Look After Our Own', Fuso New Zealand has focused on beefing up Shogun's already strong safety credentials as much as it has cranked up its pulling performance.
The new models boast an upgraded autonomous braking system in the form of Active Brake Assist 5 – top-of-the-range technology found in Daimler's other headliners Actros 5 and Cascadia – as well as new Sideguard Assist.
These additions strengthen Shogun's existing stable of standard safety features, including Lane Departure Warning, Driver Fatigue Monitoring and Electronic Stability Control.
Price
The truck is expected to enter the market at a base price point of $199,000 NZD not including GST or on road costs. The truck will be competitively positioned at that price point considering how much technology and power is included for the cost.
The truck itself is expected to land in NZ in the later months of 2021. Fuso is currently taking pre-orders for their trucks so if you would like more details about what Fuso can offer you or your company, head on over to the website.