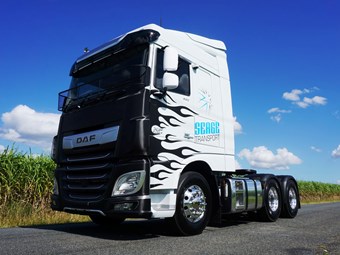 JULY TRUCK SALES KEEP PACE WITH RECORD TIMES
Light duty again drives July numbers but heavy duty no slouch either
Commercial vehicle sales continue to defy turbulent times in Australia and threaten historical records, Truck Industry Council (TIC) T-Mark figures reveal.
In an Olympic month it's hard to avoid sporting idioms, with July's 3,296 monthly and 23,216 year-to-date (YTD) sales neck and neck with the pace set in 2018 (3,344/23,314) and ahead of 2019 levels (3,194/22,083).
Individually, perennial gold medallist Isuzu recorded 756/5,524 sales, slightly less than 838/5,557 in 2018, while Hino maintains its strong market share – 464/3,667 compared with 2018's 465/3,125.
Fuso, third overall with 398/2,577, drops slightly on the same period (421/2,449).
HEAVY DUTY
Another four-figure month for heavy vehicles (1,021/6,811) is impressive but not quite enough to make up ground on 2018 (1,088/7,908).
Kenworth tightens its grip here, well above Volvo: 211/1414 against 162/880.
While neither quite match 2018 levels (218/1,551 for Kenworth and 172/1,181 Volvo), the latter's monthly improvement on June's 147 may signal the start of an upswing in the second half.
Scania, meanwhile, cracks another ton (102/678) to take it to third spot for the month, with its numbers a huge improvement on three years ago (63/518).
Further down, Isuzu's momentum slips (97/727 vs 152/1,020), with Mercedes-Benz (96/692 vs 103/663) easing slightly but still above 2018.
In mid-table, DAF and UD enjoy an uptick in fortunes.
UD's 59 in July gives it YTD 288 sales, now surpassing 39/279 three years ago.
DAF, just behind UD for the month on 56 but ahead for the year on 295, is also trending upwards (30/237).
MEDIUM DUTY
Where the medium-duty sector had been a hotbed of activity back then and leading up to now, July sees a slight breather with 534/4,071 sales against 626/4,710 in 2018.
Isuzu, notching up 210/1,546, fends off Hino's challenge (168/1,417).
However, the gap of just over 100 is much closer now than it was then, with Isuzu nearly 600 units ahead 247/1,848 against 182/1,274 this time in 2018.
Fuso also sees improvement, with 107/800 taking it to exactly 100 units ahead of 2018 (100/700).
Elsewhere, a solid month for UD sees 25 sales comprise nearly a third of its 88 YTD.
LIGHT DUTY
The light vehicle sector continues to move in leaps and bounds, with 1,202/8,072 widening the gap on 1,195/7,216 in 2018.
It's likely records will tumble here come the end of the year.
Segment leaders Isuzu and Hino cement their status, with the former's 449/3,251 maintaining a massive gap on 2018 (439/2,689), while Hino (264/1,902) grows its market share here (238/1523).
Fuso, which actually pipped second spot in 2018 with 257/1,439, remains fairly consistent three years later (252/1,458).