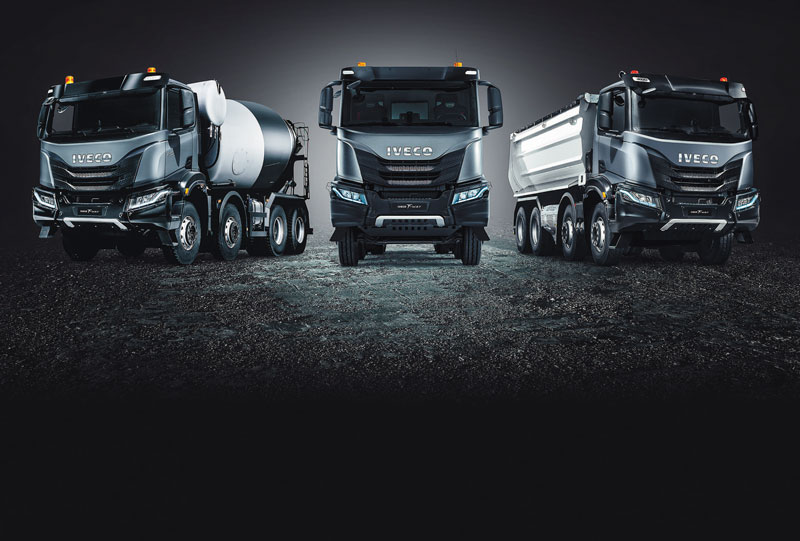 Iveco Launches New Heavy Truck T-Way Range
Iveco has long established themselves as one of the global leaders in off road trucking and their replacement of the Trakker line with the new T-WAY is no exception. The new trucks released by the company feature new suspension, cruise control system, cockpit control monitoring, and an EBS braking system that comes as standard across the entire range.
Iveco has presented the new T-WAY heavy off-road truck, replacing the Trakker and completing the Iveco WAY range that includes the S-WAY, S-WAY Natural Power, and X-WAY.
The Iveco T-WAY carries over its predecessor's high- resistance steel chassis with a 10mm thick frame, with a Rail Bending Moment at the top of the segment at 177kNm.
The front axle has a maximum capacity of up to nine tonnes. Hub reduction on the rear axle is standard to maximise strength and performance.
The new heavy-duty rear-suspension system for tandem axles optimises vehicle weight and improves off-road performance with greater ground clearance and a better departure angle.
With both rigid and articulated versions, it has the widest offering of driveline options on the market: partial- wheel drive on 6×4 rigid and articulated and 8×4 rigid models; as well as all-wheel drive on 4×4 and 6×6 rigid and articulated, and on 8×8 rigid versions.
The all-wheel-drive range has been extended with new 4-, 4.2- and 4.5-metre wheelbase models, which can transport special loads with no modification to the chassis.
The Iveco T-WAY delivers all the power needed for traction and PTO with Iveco's Cursor 13 engine that develops up to 380kW (510hp). For lighter- weight configurations, it is also available with the Cursor 9 engine.
The engines are coupled with the 12- and 16-speed HI-TRONIX automated gearbox, which now features new functions specifically intended for off-road mobility. They include a Hill Holder function to help departure on steep slopes; Rocking Mode to help recover traction in slippery conditions; and Creep Mode for ultra-low speed when idling.
The Iveco HI-CRUISE system further enhances the transmission's efficiency on road. It includes predictive gear shifting, predictive cruise control and an eco- roll function that uses the vehicle's inertia when travelling downhill.
The T-WAY has been designed for efficiency and productivity with a 325kg lower kerb weight than the Trakker, and new telematics features and digital services. It offers a new fuel-saving solution for operations that require an occasional All Wheel Drive (AWD) capability: the HI-TRACTION hydrostatic drive system for 6×4 rigid and articulated models.
It operates at speeds of up to 25kph and is automatically activated to provide additional hydraulic front-wheel traction when needed. It delivers significant benefits in terms of fuel consumption and payload compared to the AWD solution.
The Iveco T-WAY features the standard WAY range Connectivity Box, which provides telediagnostics and predictive maintenance. It also enables fleet managers to monitor the performance of every vehicle remotely. The constantly expanding portfolio of Iveco ON connectivity-enabled services is focussed on maximising the customers' productivity and the vehicle's durability, as well as minimising unplanned downtime.
The new HI-MUX electric and electronic architecture is fully compatible with the latest-generation control systems. The new PTO line-up includes a new high- performance sandwich PTO that delivers up to 2300 Nm torque.
The cab of the Iveco T-WAY is available in two versions – AD short cab and AT long cab with standard or high roof. The entire driver area has been created to provide a practical and easy-to-live-in environment with excellent driver comfort.
Driver safety is paramount in the harsh conditions typically faced by the Iveco T-WAY. The vehicle is designed to provide maximum protection, with safety features that far exceed the type-approval requirements. The new braking system features EBS as standard, full disc brakes are available on PWD models, and new ADAS (Advanced Driving Assistance Systems) are available across the range.
It is clear that Iveco has made a definitive step up from the Trakker in the way of functionality, ruggedness, and connectivity. If you or your company are interested in the new model, be sure to check out both models of the truck: AD short cab and AT long cab with standard or high roof – it is focused on functionality to facilitate the driver's daily work. If safety and comfort is your priority, upgrading your fleet may be a viable option as these are the main improvements for this line by Iveco. 
If you are interested in reading the full article head on over to New Zealand Trucking by clicking the link below:
https://www.nztrucking.co.nz/road-noise-news-iveco-launches-t-way-heavy-off-road-truck-range